Jewish-Gentile Media Culture Wars: Videos, Films, Movies, Broadway Plays, Music, and Docudramas About or Based on the Leo Frank Conviction for the Murder of Mary Phagan
1913: The Grave of little Mary Phagan (1899 to 1913) by Fiddlin' John Carson, April 28, 1913.
The Grave of Little Mary Phagan, 1913
Much Later Moonshine Kate Sang the Ballad of Mary Phagan.
Early Film: Thou Shalt Not Kill (1915)
Thou Shalt Not Kill
: Just four months after Frank's lynching, Hal Reid, the father of the silent-movie star Wallace Reid, produced
Thou Shalt Not Kill
, a film based on the life of Leo M. Frank, 1913 to 1915.
1935: Murder in Harlem by Oscar Micheaux
Write Your Review of Murder in Harlem (1935) by Oscar Micheaux: http://www.archive.org/details/Murder_in_Harlem
1937: They Won't Forget by Mervyn LeRoy, Ward Greene (Novel Death in the Deep South), Robert Rossen (screenplay), and Aben Kandel (screenplay): Based on the Novel Death in the Deep South
Your browser does not support the video tag – Upgrade To HTML5 Browsers
http://www.leofrank.org/videos/they-wont-forget_512kb-1937.mp4
A pretty schoolgirl is murdered. An ambitious prosecutor wants publicity. And an outsider — a Northern teacher in a sleepy Southern town — makes a handy defendant, someone the locals will happily convict, innocent or guilty. Based on the infamous Leo Frank case, They Won't Forget is an explosive, acclaimed indictment of bigotry that's rich in deceptive motives, sudden violence, and courtroom suspense. The talent is as powerful as the story: Mervyn LeRoy (I Am a Fugitive from a Chain Gang) produced and directed with steady hand and crackling pacing, Robert Rossen (The Hustler) co-wrote the unflinching script, Claude Rains (Casablanca) etches a portrait of the ruthless prosecutor with poison and guile, and in her first credited role, Lana Turner makes the schoolgirl beguiling prey for an unhinged mind.
http://www.imdb.com/title/tt0029658/
They Won't Forget (1937): http://www.leofrank.org/videos/they-wont-forget_512kb-1937.mp4 (requires installation of Apple Quick Time to View).
1964: Profiles in Courage: Governor John M. Slaton
This episode does not appear in JFK's original
Profiles in Courage
, but was added (and written) later. It is not generally available in print form, although others were gathered in a subsequent paperback.
Of course, the role of John Slaton was not "paid by Walter Matthau" but "played." Thomas Watson's role in the original conviction was minimal, since he did not enter the fray until about a year after the crime (1914).
This famous trial, and its sad aftermath, is still much debated today. The 1964 TV version of events is still worth watching, although Matthau doesn't look very much like Governor Slaton. When Theodore Sorenson vetted this script, he called attention to the problem of how a dead girl could bleed in the elevator. Will we ever know what really happened on Confederate Memorial Day in 1913? Why was the watchman Newt Lee sent away from the factory at 4pm? Where was Leo Frank when Montine Stover appeared between 12:05 – 12:10pm and his office was empty? There is no final certainty, even in the original black and white.
Anyway, this episode is a reminder of how history can be viewed, and even recycled, over time. Who ultimately will be well regarded – Hugh Dorsey or John Slaton? Such incidents are always instructive, especially when they were, and still are, so controversial. We will have to await the analysis of the recently discovered documents relating to April 26, 1913. (Konigsberg, 2011)
1984, ADL and other Jewish groups made a failed attempt to get a posthumous pardon for Leo Frank, the Jewsmedia spins the case to the benefit and on behalf of Leo Frank.
1987: The Murder of Mary Phagan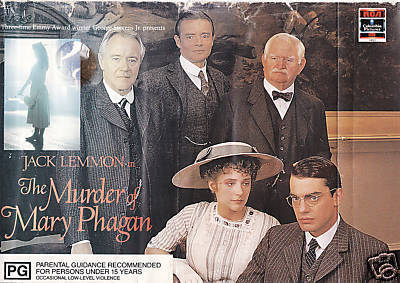 The Murder of Mary Phagan w/ Jack Lemmon, 1987
is available on Ebay.com and
Amazon.com
.
Truth Tellers write,
"this Jewish Leo Frank Defense Frankite (Cult of Leo Frank) miniseries idealizes the pedophile, rapist and strangler Leo Frank, smears Dorsey as a "self-admitted" Anti-Semite (also suggesting he would marry a white haired 80 year old widowed grandmother, with one foot in the grave, so Dorsey could get 50 extra votes), smears Southerners and makes a mockery of the facts in the Leo Frank case. Lucille Selig who became Leo Frank's wife in 1910 is presented in the miniseries as tall, dainty, pretty and thin (look at the image above or watch the miniseries), the exact opposite of what she really looked like in 1913 (look at the real images below). Under the veneer of the public Selig-Frank marriage was a once beautiful and voluptuous Lucille Selig destroyed by her selfish, mocking and condescending husband" (2011).
Mrs. Lucille Cohen Selig Frank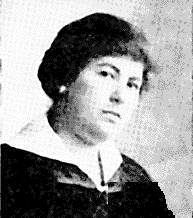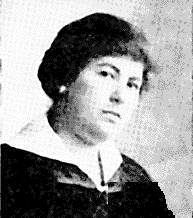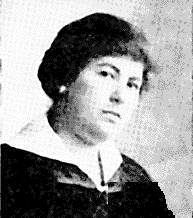 The chunky, androgynous, and dumpy, bulldykish looking Mrs. Leo Frank is often idealized in direct Jewish media representations pertaining to Leo Frank as thin and beautiful, including the 1915, Thou Shalt Not Kill silent film surviving photos, the 1987 miniseries, The Murder of Mary Phagan, and the 2009 fictionalized docudrama, The People vs. Leo Frank.
The beautiful and voluptuous Lucille Selig during happier times, July 17, 1909, Grant Park. Compare this image of Lucille Selig with photos after the wake of her marriage to Leo Frank and the life-changing turn of events concerning the murder of Mary Phagan by her husband.
In the miniseries, during the trial, the windows were opened (total fabrication), and people started screaming Anti-Semitic words drowning out the court. And then hundreds of people stood up and started singing loudly in court taking it over (this never happened in real life, and if it had, the newspapers would have been all over it). This miniseries is just one more example of an uncountable number of Jewish made and disseminated disinformation and media propaganda campaigns against European-Americans, the United States of America, and Western Civilization, like the Jewish-created
People vs. Leo Frank
(2009). This movie also reaches the heights of Jewish insolence, spin, slander, and lies, completely twisting the facts, evidence, and testimony mendaciously. Study the Leo Frank case in great detail and then watch this miniseries, which is the grotesque epiphany of Jews smearing glatt kosher human feces into the face of truth. You can purchase the propaganda docudrama
The People vs. Leo Frank
and miniseries
The Murder of Little Mary Phagan
on
Amazon.com
.
The Physical Rehabilitation of Lucille Selig Frank
The Hollywood rehabilitation of Leo M. Frank's image often carries over to Lucille Selig Frank too, because in real life, Mrs. Leo M. Frank looked more like Pat from Saturday Night Live than the sexy and sultry vixens that play her in Jewish dramatizations and reincarnations.
The Dramatic Decline of Lucille Selig Frank
Most neutral observers studying the history of the Leo Frank case note that the photographs of Lucille Selig Frank taken during 1913 to 1915 were unflattering indeed. Perhaps Lucille's dramatic physical decline during 1913 to 1915 ordeal was compounded by an unhappy, one-sided, unfaithful marriage, under the veneer of a happy public marriage, and the furtive acknowledgement of Leo Frank's guilt during the whole Dog and Pony show of the trial and appeals. In her later life, her weight seemed to normalize.
The Final Verdict of Lucille Selig Frank Is Left Out of Jewish Dramatizations
When Lucile Selig Frank passed away from cardiac arrest (broken heart) on August 23, 1957, her last will and testament notarized in 1954, suggested an entirely different verdict concerning her insistence of Leo Frank's innocence during her life. The question everyone wanted to know was whether or not there was some truth to the Minola McKnight statement, State's Exhibit J, June 3rd, 1913. The answer would come from the symbolism of Lucille's specific request for cremation, and thus not buried in her reserved empty grave spot in the Mount Carmel Cemetery at the Frank-Stern family grave plot #1 (1-E-41-1035-01), next to Leo M. Frank in grave spot #2, at the Frank-Stern family grave plot #2 (1-E-41-1035-02). Many years after her cremation, the family being able to read between the lines of her 1954 notarized will ensured the final resting place of Lucille Selig's ashes would be become the space between the grave stones of her parents.
Miniseries: The Murder of Mary Phagan, 1987
The Murder of Mary Phagan, a 1987 two-part TV miniseries made by Orion Pictures Corporation and distributed by National Broadcasting Company (NBC), is a dramatization of the story of Leo Frank, a factory manager charged and convicted with murdering a thirteen-year-old girl, a factory worker named Mary Phagan, in Atlanta, Georgia in 1913. The trial was sensational and controversial. After Frank's legal appeals had failed, the governor of Georgia in 1915 commuted his death sentence to life imprisonment. In 1915, a small group of prominent men of Marietta, Georgia, kidnapped Frank from prison and lynched him. The film features Jack Lemmon, Kevin Spacey, Rebecca Miller, Charles Dutton, Peter Gallagher, Cynthia Nixon, Dylan Baker, and William H. Macy. Written by Larry McMurtry, produced by George Stevens, Jr., and directed by William "Billy" Hale, the film was shot in Richmond, Virginia. It has a running time of 251 minutes (over four hours), originally broadcast over two evenings. The film won the 1988 Emmy Award for Outstanding Miniseries.
Meet Jack Lemmon
Part 1: 30 minutes
Part 2: 30 minutes
Part 3: 30 minutes
Part 4: 30 minutes
Also see the Jewish occupied and biased Wikipedia on this miniseries: http://en.wikipedia.org/wiki/The_Murder_of_Mary_Phagan.
2009: The People v. Leo Frank by Benjamin Loeterman and Steve Oney
Detailed Info
Website:
http://www.leofrankfilm.com
http://www.twitter.com/leofrankfilm
http://www.imdb.com/title/tt1248960/
Starring: Will Janowitz, Seth Gilliam
Directed By: Ben Loeterman (and Steve Oney)
Produced By: Laura Longsworth
Awards: Special Jury Award from History Makers 2010

Plot Outline: In 1913 Atlanta, 13-year old Mary Phagan was found dead in the basement of the National Pencil Company. The police soon focused on her boss, Leo Frank. Frank's murder trial quickly descended into a free-for-all of racial stereotypes, hearsay testimony and mind-boggling contradictions. With no physical evidence connecting Frank to the crime, he was found guilty and sentenced to death largely on the say of a black factory sweeper, Jim Conley.
The conviction was appealed to the US Supreme Court, and the New York Times made Frank's plight a cause celebrè, to no avail. Then, the day before he was to hang, Georgia's Governor John Slaton concluded in an astonishing turnaround that Frank had not received a fair trial and commuted his sentence to life in prison.
Slaton's decision inflamed tempers. On a hot August afternoon, twenty-five men drove 150 miles to the state penitentiary in Milledgeville, walked in and abducted Frank. They drove back to an oak grove near Mary Phagan's childhood home. There, the small table on which Leo Frank was hoisted was kicked out from under him, and Leo Frank hung. The case's aftermath marked the reconstituting of the Ku Klux Klan, and the galvanizing of the newly formed Anti-defamation League.
The People v. Leo Frank weaves together drama with recollections, commentary, and a rich trove of archival images. The film stars Will Janowitz (of the Sopranos) as Leo Frank and Seth Gilliam (of The Wire) as Jim Conley with dialogue drawn straight from the historical record.
To purchase a copy of The People v. Leo Frank, go to www.leofrankfilm.com and on the main page click on Order the DVD.

Facebook Page: http://www.facebook.com/leofrankfilm
Sandy Berman attempts to present the Leo Frank case neutrally, but then the video gets a little sneaky via use of period fictional reenactment photos, half-spun and black face representation of Jim Conley "doing the crime." The subliminal message on this video is to Frankite proselytize by visually implanting as the "truth" a made-up defense theory pretending to be what really happened. If you want to see those original black face images that were financed by Jewish media mogul "Money Bags," the likes of Adolph Ochs and Albert Lasker, which were created to propagandize the Leo Frank case for the defense, visit the defense page to see the entire series of photos.
The Anti-Defamation League of B'nai B'rith Founded October 1913 by Sidney Livingston in Part Because of the Conviction of Leo Frank
Defamation (2009) Must Watch:
Visit our ADL page:
http://www.leofrank.org/adl/
.
Also See:
Screening a Lynching by Bernstein: Admittedly biased on behalf of Leo Frank, it discusses the media interpretations of the Leo Frank case.
http://books.google.com/books?id=Y_JnsmXU_sUC&lpg=PA272&ots=9i3cu8uplw&dq=%22thou%20shalt%20not%20kill%22%20leo%20frank&pg=PP1#v=onepage&q=%22thou%20shalt%20not%20kill%22%20leo%20frank&f=false
Indy Yeshiva Spinning the Leo Frank Case
Jewish Global Culture Wars Against Western Civilization Begins in the South
Round Table on the People Vs. Leo Frank: http://mediam1.gpb.org/gpb/tv/2010/GPB-TV_ThePeopleVLeoFrank_AGeorgiaRoundtable_558kbps.wmv Why won't they talk about State's Exhibit B, Monteen Stover, and the August 18, 1913, Leo Frank's trial admission amounting to a murder confession?
Steve Oney on C-Span (October 11, 2003) speaking about his research and book on Leo Frank: http://www.c-spanvideo.org/program/178832-1. Not a word about State's Exhibit B, Monteen Stover, and Leo Frank's August 18, 1913, virtual murder confession about his "unconscious" bathroom visit to the metal room — the scene of the crime.
The Knights of Mary Phagan: Another Jewish Dramatization Demoralizing European-Americans, Smearing Southerners, and Subverting the Truth
Resources:
Apple Quick Time Download: http://www.apple.com/quicktime/download/
Watch the Eight Part Series on the Anti-Defamation League of B'nai B'rith: http://www.leofrank.org/videos/adl-anti-defamation-league-bnai-brith/
Samuel Q. Edelstein et al., Plaintiffs, v. George H. Bell, Defendant. Supreme Court of New York, Special Term, New York County. 91 Misc. 620; 155 N.Y.S. 590; 1915 N.Y. Misc. LEXIS 1183. September, 1915. PRIOR HISTORY: [**1] Application for an injunction pendente lite.
http://www.leofrank.org/library/nexus-lexus/91_Misc._620,_155_N.Y.S._5901915_N.Y._Misc..PDF